realo.tv
realo.tv is an independent company founded by Luke Bodley in 2016, Luke has spent 16 successful years in the local area as a leading real estate professional, constantly achieving outstanding results for his clients.
The realo.tv team are focused intently on bringing a new level of marketing options and service to our beautiful north coast region, we pride ourselves on finding new and innovative ideas through online training and professional development, so that we can help our clients achieve more from their home or investment.
We strive to deliver world class marketing, we are aware of the global shift toward the mobile device era and embrace the opportunities that technology brings, we want to ensure that we become the best in the business by innovating and continually exceeding our clients expectations. Our enthusiasm for this area plays a pivotal part in helping sellers achieve outstanding results.
realo.tv works from a philosophy that above all, values, honesty, integrity, experience and the desire to put in the time. Equally, we are aware of our future direction and the benefits of growing and broadening our knowledge and skills. Of keeping abreast with the latest innovative marketing methods. Above all, realo.tv has a commitment to serve our customers with integrity and respect whilst offering them the knowledge and skills required to exceed their expectations.
---
Luke Bodley
Principal, Licensed Real Estate & Stock & Station Agent, Accredited Auctioneer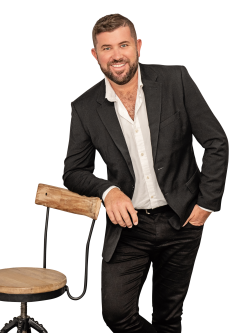 For over 16 years in the industry Luke Bodley has been a driving force for innovation within his business. Through hard work; a genuine passion for the real estate industry and a 100% focus on achieving the best outcome for his clients he has earned a reputation as an agent who can get the job done in a range of market conditions. Luke has vast experience in rural and residential sales and project marketing
Having lived, worked and raised a family on the Far north coast of NSW, Lukes intimate knowledge of the area means that he is ideally qualified to promote its lifestyle and advantages to prospective buyers. His trademark enthusiasm is also directed towards public interests, i.e. Former President of the Casino Chamber of Commerce and Industry.
Call Luke for an appraisal today 0423 838 560
---